Dailymotion Appoints Antonio Pianese as Director of Italy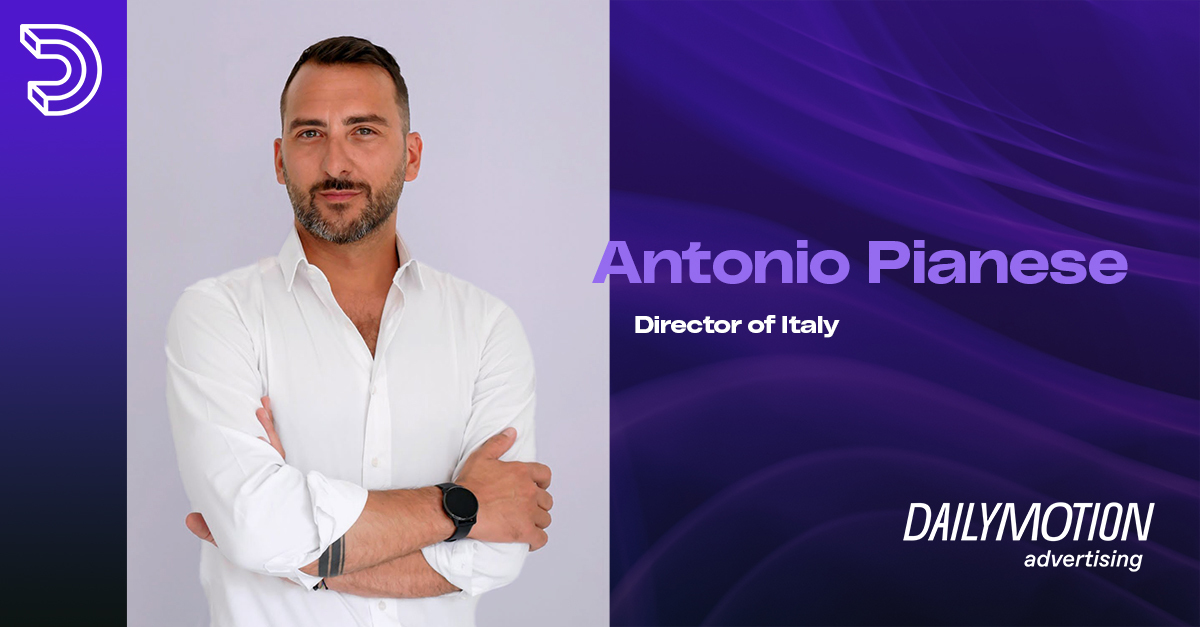 Milan, July 12, 2023 – Dailymotion Advertising, a key player in the AdTech market, continues to strengthen its growth and opens up a new market : Italy, with the appointment of Antonio Pianese as Director of Italy leading the sales team in this market. Antonio Pianese will report directly to Bichoï Bastha, Chief Revenue and Business Officer at Dailymotion. 
With 15 years of experience in the advertising industry, including positions at various organizations such as Wavemaker as a Senior Digital Team Lead, and most recently at Azerion as Head of Business Development, Antonio Pianese is now responsible for the business development of Dailymotion in Italy. 
Bichoi Bastha, Chief Revenue and Business Officer at Dailymotion : " We are delighted to welcome Antonio at Dailymotion as Director of Italy. This is a crucial appointment for us as we aim to further expand our presence in the italian market. It will allow us to enhance our visibility and client portfolio in this hightly competitive market." 
Antonio's main missions will be to maintain and strengthen the presence of Dailymotion Advertising in Italy, develop the company's strategy – taking into account the expectations of different stakeholders in the ecosystem (advertisers and media agencies) – and define the business objectives for the italian market.  
Speaking on his appointment, Antonio Pianese said : "I am thrilled to be able to support the impressive growth momentum of Dailymotion Advertising, a Global actor in the AdTech industry, and bring my business vision to market'.  
Giulia Zuffi also joins the team as Head of Sales. Giulia has worked for FreeWheel, in charge of several media agencies. She will now support Antonio Pianese in deploying the sales strategy for the Italian market and help advertisers monetize their content. As an adtech expert, she has a thorough knowledge of the market.  
About Dailymotion Advertising 
Dailymotion Advertising is the video marketing platform of Dailymotion, offering a secure first-party data ecosystem for brands wishing to run video advertising campaigns that are both effective and transparent. Dailymotion Advertising stands out with an integrated creative studio, which provides expert designers and developers to service a brand's full creative marketing funnel. In addition, the studio works in tandem with an insights department that provides the pre and post-company data to inform each campaign. 
About Dailymotion  
Dailymotion is more than a video application; it is a dynamic visual conversation built on a unique algorithm designed to expand users' horizons instead of keeping them confined to their own bubble. 
We offer enriching content from creators and media outlets. Our video feeds are curated to present contrasting viewpoints and encourage critical thinking. We provide polls on current topics to share opinions and discover those of other users. Video comments with the "React" feature foster authentic and constructive exchanges. Dailymotion brings nuance to the discussions that engage young people, placing listening, discovery, and kindness at the core of interactions to contribute to building a safer and more virtuous internet. 
Our team consists of 370 talents located in France, New York, and Singapore, all united by the same ambition: to visibly transform the landscape of the global video platform ecosystem.